If you're looking for a more productive, cost-effective and creative way to work, a coworking space may be just what you need. Coworking spaces are shared office environments that provide a collaborative and inspiring environment for professionals from all different industries.
There are many benefits to coworking, including the opportunity to network and collaborate with other professionals, a boost in creativity and a more cost-efficient way to work. In this read, we'll explore the top 5 benefits of coworking spaces such as Workinton Qatar.
Here are just a few ways in which coworking spaces can help you get more done:
Increase in Productivity
In today's fast-paced, constantly connected world, it can be difficult to find time and space to really focus on your work. But in a coworking space, you can enjoy the peace and quiet you need to power through your to-do list. No more distractions from colleagues or family members – you can finally get in the zone and get things done. Workinton Qatar's coworking spaces have Focus Zones if you want to get on a private call or work in a booth and quiet open areas for you to work better.
Improved collaboration and networking opportunities
If you're working on a project with others, coworking spaces provide the perfect environment for collaboration. And even if solo, you'll have plenty of opportunities to network with other professionals in the space. This can lead to new business opportunities, helpful connections, and a general sense of community. Our WorkinMembers play and network with each other through community events and activities. Gaming areas with PlayStations and Table Football are one place to meet people.
Greater motivation and inspiration
It's easy to feel unmotivated when you're stuck in a traditional office day after day. But coworking spaces often have a more creative and inspiring vibe, which can help spur you on to do your best work. Plus, being around other driven professionals can help push you to reach your own goals. At Workinton Qatar, our art exhibitions such as our recently held "A Love Letter to Qatar" provide WorkinMembers with the inspiration they need. We believe that having art pieces in a work environment positively affects mood and productivity.
More flexible work hours
One of the great things about coworking spaces is that they're usually open 24/7 – Workinton Qatar is no exception. If you're a night owl or an early riser, you can work whenever it suits you – no more being tied to 9-5 office hours. This increased flexibility can lead to improved productivity as well as a better work/life balance for you as a WorkinMember.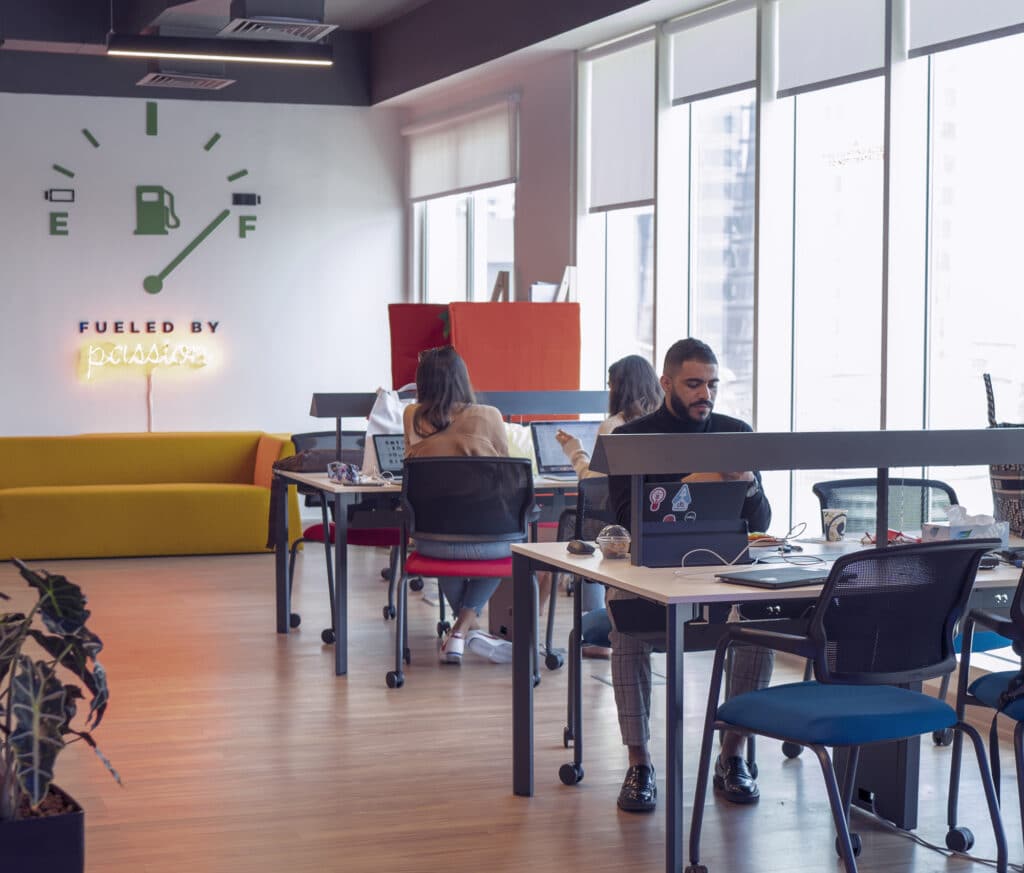 Networking & Collaboration Opportunities
Coworking spaces are places where people from different companies can come together to work in a shared office environment. This type of arrangement can offer many benefits, including opportunities for networking and collaboration.
For businesses, coworking spaces can provide a way to reduce overhead costs by sharing office space and resources. They can also be a great way to promote collaboration between employees from different departments or companies. And for employees, coworking spaces can offer a more flexible and affordable alternative to traditional office space.
But one of the most important benefits of coworking spaces is the opportunity they provide for networking and collaboration. In today's business world, it's more important than ever to build relationships and collaborate with others in your field. And coworking spaces are the perfect place to do just that. At Workinton, members in the PR and Communications industry collaborate with others to bolster their communications while members in the health industry create events and activities that keep WorkinMembers health. This is not found in a traditional office setting.
At a coworking space, you'll be surrounded by other professionals who are working on interesting projects. This provides the perfect opportunity to network and build relationships with other like-minded individuals. And because coworking spaces are typically filled with small businesses and entrepreneurs, you'll also have the chance to collaborate on projects with others in your field.
If you're looking for an opportunity to network and collaborate with other professionals, then Workinton Qatar is the right space for you.
Cost-Efficient
For businesses, the biggest advantage of coworking spaces is saving on costs. Traditional office space can be expensive, and the costs associated with it can quickly add up. Coworking spaces offer a more affordable alternative that can help businesses save money. In some cases, businesses have been able to reduce their office expenses by 50% or more!
Boost in Creativity
When people work alone, they can sometimes get into a rut, creatively speaking. When you're surrounded by other people who are working on their own projects, it can be inspiring and help you come up with new ideas. Additionally, because coworking spaces often have various people from different industries and backgrounds, you can get some good insights and perspectives that you might not have thought of before.
Private and Shared Serviced Office
Office space can be one of the biggest expenses for a business, so it's no surprise that coworking spaces have become increasingly popular in recent years in Qatar. For businesses, coworking spaces offer a more flexible and affordable alternative to traditional office space. And for employees, coworking spaces offer a chance to escape the traditional office environment. For any team sizes, Workinton Serviced offices provide everything a team needs, and eliminate all the energy and cost spent on running an office, such as cleaning, maintenance, IT, and beverages. Allowing you to focus on what really matters – your success.