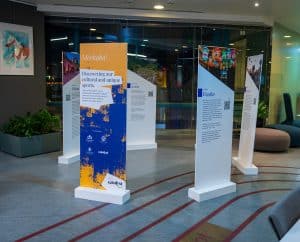 Workinton Qatar, organized their first National Sports Day event at Workinton Alfardan Centre celebrating their rich and diverse community and showcasing unique sports that are derived from different cultures. The event included activities from physical movement, mental wellbeing, education, and play through technology. Essentially, incorporating all their pillars of Learn, Create, Grow and Glow.  
The evening was organized in collaboration with WorkinMembers and partners that included a Salsa crash course by Yamativo Mambo, self – care workshop by Flourishing Mind Consultants, and an energetic Zumba session by Evolve Wellness. Furthermore, healthy refreshments and food from Nest Qatar, and an educational exhibit on "unique sports from diverse cultures" by Catalyst Qatar.  
"We always believe in the power of collaboration. When a community of like-minded individuals get together with an aligned goal, beautiful opportunities arise. This is essentially why coworking spaces are an integral part of the startup ecosystem. It acts as a catalyzer for various businesses and individuals to connect, collaborate and create" – Megha Sharma, Community Lead at Workinton Qatar.
Workinton Qatar, through its coworking spaces, serviced offices, events & workshops, and community continues to push boundaries and revolutionize the workspace culture.