In September 2021, Workinton Qatar launched The Art Project: A Love Letter to Qatar 2030 inviting artists from various disciplines to submit a proposal for an art piece they would create that reflects their love to Qatar. In March 2022, after numerous submissions, winners were selected and announced during the opening night of Workinton's fourth coworking space in Msheireb. Their work is now a permanent fixture at Workinton M7.
The love letter to Qatar symbolizes everyone's love, fond memories, or something they want to thank Qatar for. Now more than ever, Qatar is an ever-growing nation with a diverse range of nationalities, lifestyles and cultures united under its vision. Qatar has given a lot to many and all we want to do, is share some love back.
Some of the featured pieces include work from Irish Artist Jumanah Abbas whose "A Highly –Wired Nation" made of LED light boxes and print on luminous fabric highlights the connectivity amongst people as well as networks and connectivity in Qatar. The locations of highest usage of 4G and 5G connectivity and their reach.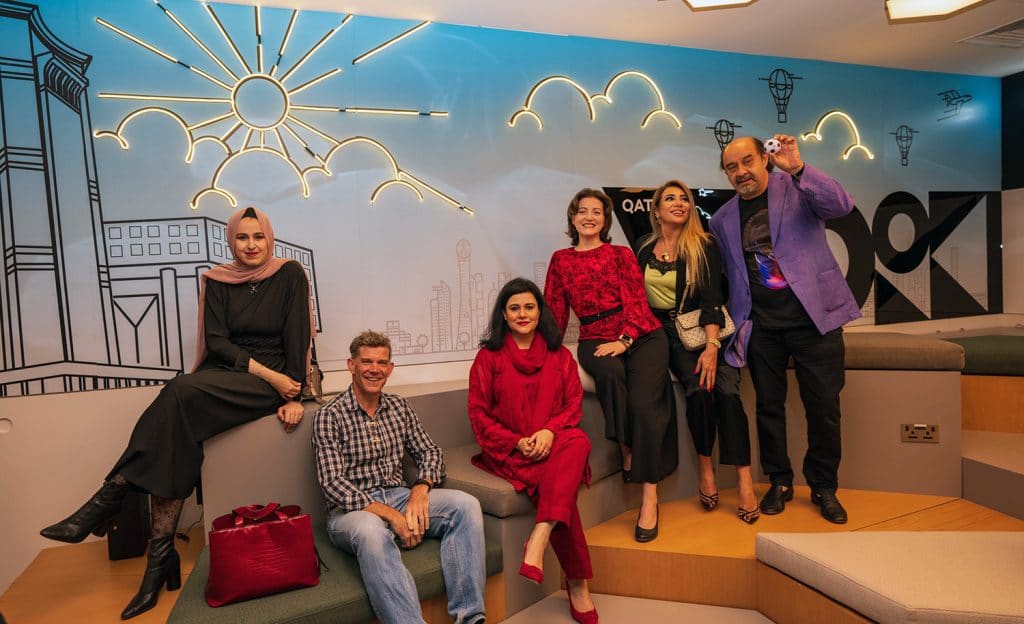 "Dear 2030" an acrylic and pen on wood designed by Pakistani/Canadian Artist Mala Waseem displays the journey of an expatriate coming to Qatar. Mala expresses her love to the nation by using Arabic Calligraphy.
Syrian Canadian artist Lamia Awad's piece entitled "Doha" presents Doha's skyline on a multimedia on canvas using various fabrics and materials with Islamic prints that symbolize Qatar through collage and paint.
Simon Mortimer, A British Artist uses the word "Build" in Arabic as the central focus of his work. The word itself has a few depictions as some read it as "its built" or "built". This is intentional, as he represents the diverse community of people in Qatar and how they may interpret the word. He included an Arab woman, which represents the empowerment and growth of women in the region. His work includes paint brushes and whistles to symbolize arts and sports as part of Qatar's development in sports and culture especially now as we prepare to host the World Cup.
Mexican artist Juan Miguel Ramirez also known as ICARO whose work has been featured in many of Workinton's art exhibitions presented four pieces: "Turbulence, Good Atmosphere, Blue Sun, and Emerging from the Darkness." ICARO uses photography, light manipulation through reflection and refraction, and watermelon as his main subject to create his pieces. He uses watermelon to symbolize people as they are similar. Hard on the outside, soft and watery on the inside –sometimes sweet. Each of his pieces displayed here are her personal experience through different scenarios in Qatar.
Lastly, Romanian Artist Cristina Dinu presented a print on canvas entitled Love of Qatar. Created digitally, every piece on her artwork was created to form the map of Qatar. She merges the past and the future by using old postage stamps which represent the rich culture in Qatar, its present and future developments.
What would a love letter to Qatar look like for you? Gain some inspiration by visiting our Workinton M7 location in Msheireb.